Paynearby Axis Bank Savings Account Opening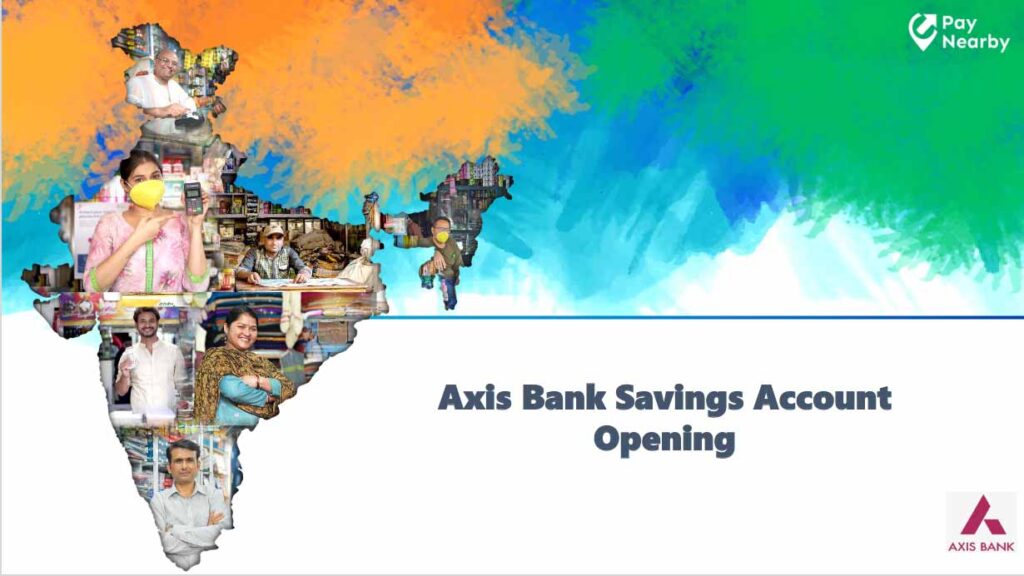 Tangible Benefits to Savings Account Customer
• Zero balance account , Zero non maintenance/ monthly service charges.
• Interest in the range of 3–3.5% on daily balances
maintained

• Free NEFT/RTGS via Digital Channel (Mobile & Internet
Banking).

• Visa Platinum Card at an issuance fee of Rs. 250(+tax)
and annual fee of Rs.100(+tax)

• Daily withdrawal limits (ATM+AePS withdrwal) of Rs.
40,000 and Rs. 3,00,000 for shopping transactions

• Personal accident insurance cover of up to Rs. 2 Lakhs, if
swiped ( Shopping)once, every 90 days.

• 24×7 Accessible Axis Bank Customer Care details
Tangible Benefits to Savings Account Customer

Intangible Benefits to Savings Account




Customers
• Convenience of opening a bank account at the
nearby stores and access it beyond Banking
Hours

• Aspirational benefit of being a bank account
holder of one of the largest private sector Bank

• Instant Bank account opening through eKYC /
biometric

• Safety in terms of funds stored in digital format

• Money lying with the trustworthy and credible
organisation

• Easy Access to funds at any time of the day via
ATM and Retailer outlets
• Attractive commission to Retailers on each account Opening
• Credibility and Trust growth in the market
• Consistent income – Account opening, Withdrawal, deposit and other new transactions
• Up Sell/ Cross sell other products in their shop and thus increase in footfalls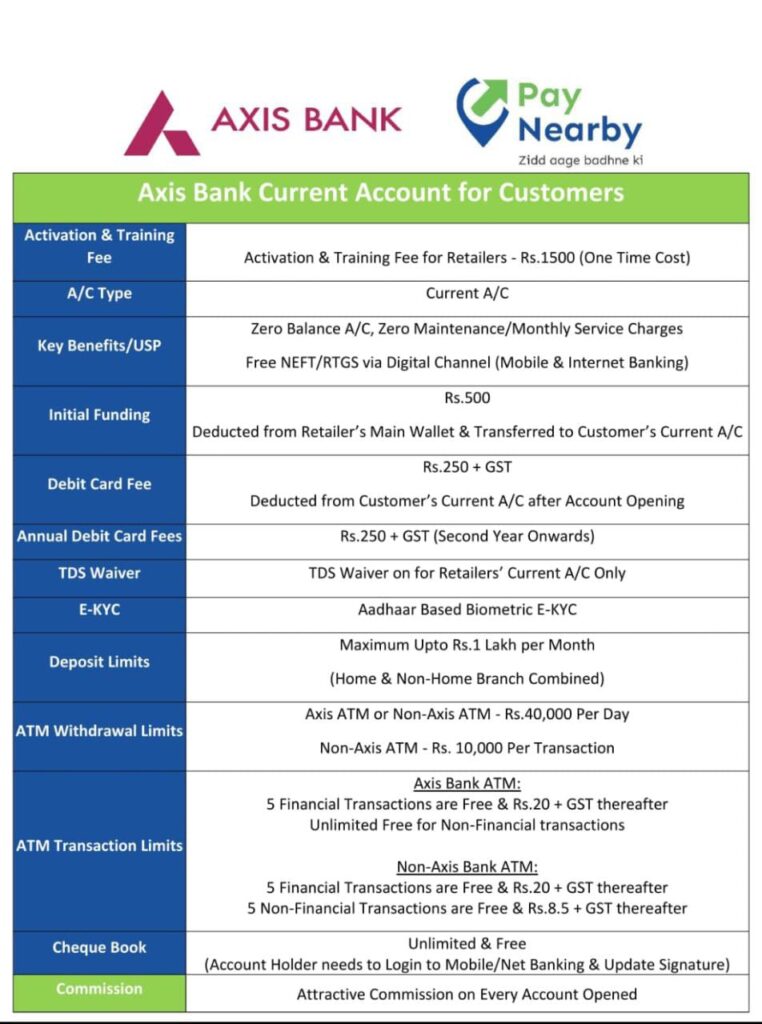 Some Common FAQs
1. Is Cash Deposit @ Retailer Outlet available ?
Currently this facility is not available –It is expected to come soon.
However customer can use branches, NEFT–IMPS or Cash Deposit Machines to deposit cash in the
account.
2. When can I start using AePS Withdrawal for this account?
As soon as the account is activated, Customer receives a sms about the same and thus the AePS
withdrawal can start.
3. What is AePS withdrawal limit & charges ?
ATM & AePS withdrawal has a combined limit of 40,000/– per day.
Charges for ATM and AePS withdrawal beyond 5 free transactions are 20/– +Taxes .
Customers are requested to use this feature judiciously .
4. If an retailer has opened a Current account for himself – Can he still open the Savings account for
himself?
Bank has this program mainly for "New to Bank" customers – So anyone who does not hold any past
relationship with Axis Bank (Savings Account, Current Account, Credit Card, Loan , etc ) . In this
scenario, by opening CA –retailer has created a relationship with Bank and thus will not be allowed
to open a Savings account .
Also retailers are requested to open a Retailer Current Account first to avail "TDS Waiver on Cash
Withdrawals" ( Under Section 194N of Income Tax Act , 1961)
5. Aadhaar Seeding process during account opening ?
There is a section during Savings Account opening for Aadhaar Linking and Seeding . If the customer says Yes
here, Axis Bank will initiate the process with NPCI . (Please refer to screenshot here)
1500/– Subscription Fees
(This is charged one time
to Retailer
For each successful
Customer Current or
Savings Account opening